I4MSGrowth continues coordination and support activities (CSA) in the Horizon 2020 framework programme for the ICT Innovation for Manufacturing SMEs initiatives, which started with I4MSgate during the FP7.
In the second phase of the I4MS, the technology portfolio for European SMEs, which includes laser, robotic, cloud computing and high feature applications, integrates cyber/physical systems applied to production and semi-autonomous production systems.
The network of competence centres will be extended to other European regions through a dedicated open call and many common events and initiatives will be organised and promoted.
THE ROLE OF THE INNOVALIA ASSOCIATION
Innovalia coordinates all CSA activities and is responsible for promotion, organising events and integrating new stakeholders into the I4MS network.
Support and stimulation of dynamic and organic growth of pan European ICT for Manufacturing SME Innovation Ecosystems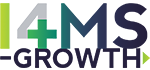 Start / End : 10/2015 – 04/2017