With the appearance of Cloud Computing new scenarios have emerged that work not only with one computer but also with a group of computers interconnected with one another; therefore, the security of an entire group of computers must be managed and guaranteed as a single entity.
The purpose of the project is to exchange the concept of security in the cloud to security of the cloud. The main objective of the project is to study the impact of NoSEs (Networks of Secure Elements) on the different architecture layers, from hardware through to services, in order to analyse how security is transferred from the lowest layers to the highest layers.
THE ROLE OF THE INNOVALIA ASSOCIATION
Innovalia participates in defining usage cases and state-of-the-art, as well as defining administration, inspection and measurement architecture. Innovalia is a leader in the work package in terms of promotion, standardisation and the extrapolation of results, contributing its experience and knowledge in these tasks.
Secure Embedded Element and Data Privacy for Cloud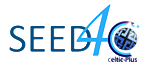 Start / End : 04/2012 – 12/2014


TSI-020401-2012-10 Projectfunded by the Ministry of Industry, Energy and Tourism